Companies
Improve Employees' Commute To Work
How Commute With Enterprise Works
Companies partner with Enterprise to bring their employees a better commute. By sharing a ride, your people arrive to work relaxed and recharged, fueling a better company culture for everyone.
 
Make A Game Plan
Working closely with your team, we tailor the program to your business goals.
Roll Out a New Benefit
We'll help you recruit riders, connecting employees who live near each other and supplying a recent-model vehicle. 
Upkeep Is Easy
From onboarding to maintenance, Enterprise is there for support. 
Prove Your Success
We'll keep you updated on your success with real-time reporting and quarterly impact reports.     
Get Onboard With Commuters
See how sharing a ride can set your employees up for a more successful and productive day.

Are You A Transit Agency?
Public transportation benefits everyone. Enterprise works with agencies to bring commuting solutions to your community.
Learn more
Getting To Work Is Now A Perk
Commute with Enterprise is a competitive benefit that helps you recruit and retain top talent—even helping you diversify your talent pool by recruiting from surrounding areas. Your employees can save money, reduce their environmental impact and gain valuable free time.


A Scalable Parking Solution
Commuting together frees up parking, allowing you to use your space more efficiently and say goodbye to parking congestion. 
A Ride To Work Program With Tax Benefits
You'll save on more than just parking costs. IRS Code 132(f) can help your employees save money by reducing taxable income and can help your business to lower FICA payroll taxes.

Pledge to Keep it Clean
Commute groups set their own rules, sharing responsibilities like driving and vehicle care. We provide a Complete Clean Starter Kit to new Commutes and encourage all riders to take the Complete Clean Pledge.  For added confidence, we're also offering vehicle disinfection services through our partnership with Spiffy. (Check site for special rates and availability.) 

Prove Success With Real-Time Results
Quarterly impact reports help you track toward your business goals, like lowering your carbon footprint or freeing up parking spaces.

Make Tomorrow Better
Sustainability isn't just good for the earth, it's good business. Consumers will pay more for products or services from companies with a commitment to sustainability.1 And, 76% of millennials take a company's social and environmental initiatives into consideration before choosing where to work.2 Learn how we're designing commutes that help companies reach their sustainability goals.



1. According to a 2015 Nielsen survey, "The Sustainability Imperative"
2. According to a Cone Communications, November 2016, "Millennial Employee Engagment Study"

See A Smarter Commute At Work
Adjust the slider to see how riding together can positively impact your business.

Employees at your company $6,453
Freed up in parking spots

641
in yearly employee savings

22,185
pounds of carbon emissions reduced annually
Join Commute
Calculations according to 2019 Enterprise Reporting and U.S. Environmental Protection Agency Data.
Show me the math.
Enjoy the Ride And The Savings
Adjust the slider to calculate your commute savings.

Your round trip commute in miles 641
hours of drive time back annually

22,185
fewer miles of annual wear and tear on your vehicle
Join Commute
Calculations according to 2019 Enterprise Reporting and U.S. Environmental Protection Agency Data.
Show me the math.
Turning a Commuting Problem into a Company Perk
Commute With Enterprise teamed up with a medical tech company in Southern California, where the typical commute is twice the national average. Working closely with the company's HR team, Enterprise helped launch a tailored vanpool program to ensure that as the company grew, so could the workforce.
Smarter Commutes Create More Space To Grow
Commute With Enterprise worked with a world leader in biotech to create an innovative solution for its rapidly growing workforce. In partnership with its facilities team, Enterprise helped launch a tailored vanpool program that saved land and development costs by reducing solo commuting. The company was able to reinvest the infrastructure savings in its people and continue to grow.
Driving Large-Scale Sustainability Goals
Commute With Enterprise joined forces with a leading global energy company to help it deliver on corporate responsibility goals. In close collaboration with the company's sustainability officers, Enterprise helped launch a socially and environmentally responsible vanpool program tailored to the company's goals and processes.
We Roll Deep. Browse Our Fleet.
Choose from our selection of recent-model, low-mileage SUVs and vans. Upgrade your ride and boost productivity with amenities such as in-vehicle WiFi and leather seats.
2019 Nissan
Pathfinder
2019 Dodge
Durango GT
2019 Premium
Ford Transit
2019 Standard
Ford Transit
2019 Chrysler
Pacifica
View Details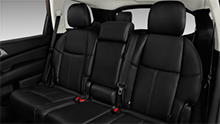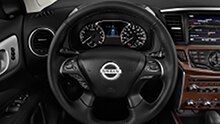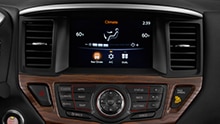 2018 Nissan Pathfinder
Rugged on the outside. All luxury on the inside. You'll have plenty of room to stretch out and relax in this spacious interior. And with the highest safety ratings, you'll be resting easy too.1
7 leather seats

8-way power adjusted driver seat

Rear-view camera

Bluetooth wireless phone

Dual zone climate control

Privacy glass

Side airbags 1st, 2nd, 3rd row

Rear parking assist
1. According to the National Highway Traffic Safety Administration
2018 Dodge Durango GT
Get ready for the ultimate commute. With heated seats, Bluetooth capabilities, and room for 7, you'll have everything you need to make every ride as comfortable as possible.
7 seats

Front power driver and passenger seats

Heated seats driver and passenger

Power liftgate

Side airbags 1st, 2nd, 3rd row

UConnect Bluetooth

Rear-view camera

Privacy glass
2019 Premium Ford Transit
With leather captain's chairs and USB ports for up to 14, you'll keep every workday running smoothly. Take a virtual tour and review available seating options.
8-14 Captain's chairs

Remote keyless entry

Rear-view camera

Side airbags 1st, 2nd, 3rd row

Sliding side entry door

Dual zone climate control

Mid-roof option

Side USB ports
2019 Standard Ford Transit
With spacious interiors, you'll have plenty of legroom and cargo space for everyone. We can't think of a better way to get to work with 10-15 of your favorite coworkers. 
10, 12, or 15 seats

Remote keyless entry

Rear-view camera

Side airbags 1st, 2nd, 3rd row

Sliding side entry door

Dual climate control
2018 Chrysler Pacifica
Say hello to a car you'd be happy to drive every day. From sleek lines and a luxury interior to safety and security features like Collision Warning and Lane Departure Warnings, you'll be riding in style.
7 seats

2nd row stow and go bucket seats

Dual power sliding doors

Power liftgate

Dual zone climate control

Power driver seat

UConnect Bluetooth

Rear backup camera